products
Stay Tech! Stay Accounting! Stay Maxtrino!
Our offer covers the entire value chain (alias the entire sequence of processes) of administrative activities ranging from the download of new documents, through checks, goods controls (order cycle) and analytical accounting down to registration and final archiving.
To cover the value chain, MAXTRINO has developed three product lines:



M
Frame
Benefit from the most advanced and intelligent pdf preview of electronic invoices available on the market today:
Identification of data outside the standard taxonomy (orders, delivery notes, CIG, CUP, …)
Identification of analytical accounting data (POD, Plates, Telepass, PNR … and much more)
Hierarchical printing (orders, delivery notes, plates, …)
Currency translation (application of European Central Bank exchange rates)
M
State
Extract your financial statements into Excel thanks to Maxtrino's artificial intelligence:
Reading from the financial statements deposited in pdf
Personal data extraction
Automatic identification of the taxonomy
Extraction of balance sheet and income statement
Error check and data certification
M
Chain
Give an undisputable day/time stamp to your documents using Maxtrino blockchain certification
Upload
Hashing
Issue of Blockchain certificate
M
Snipe
Extract the most relevant data from your accounting and administrative documents.
Maxtrino Advanced OCR (ICR, HCR, XCR)
Document type identification
Identification of personal data, VAT numbers, tax code, financial statements
Advanced pdf management (Split, merge, add, …)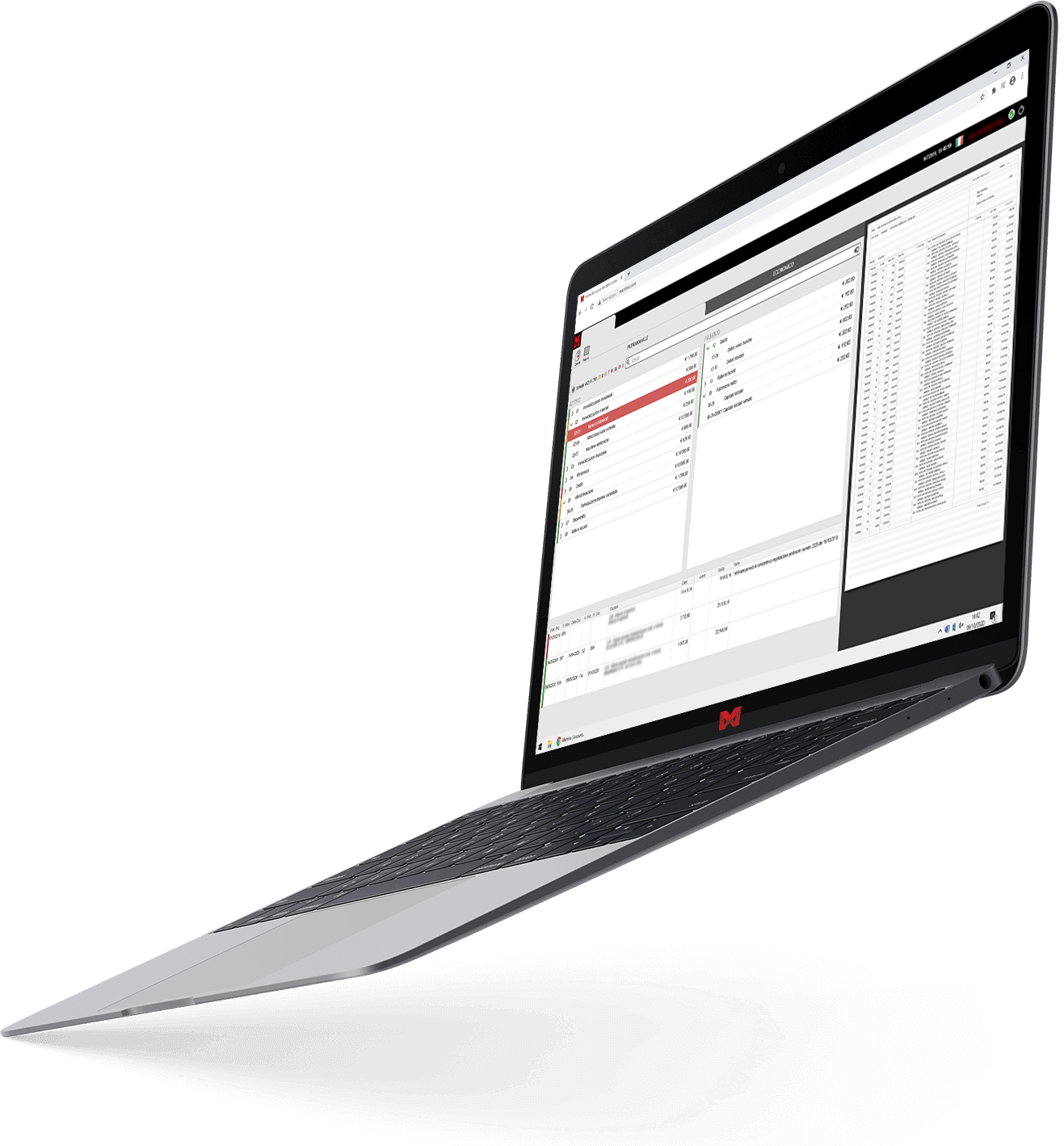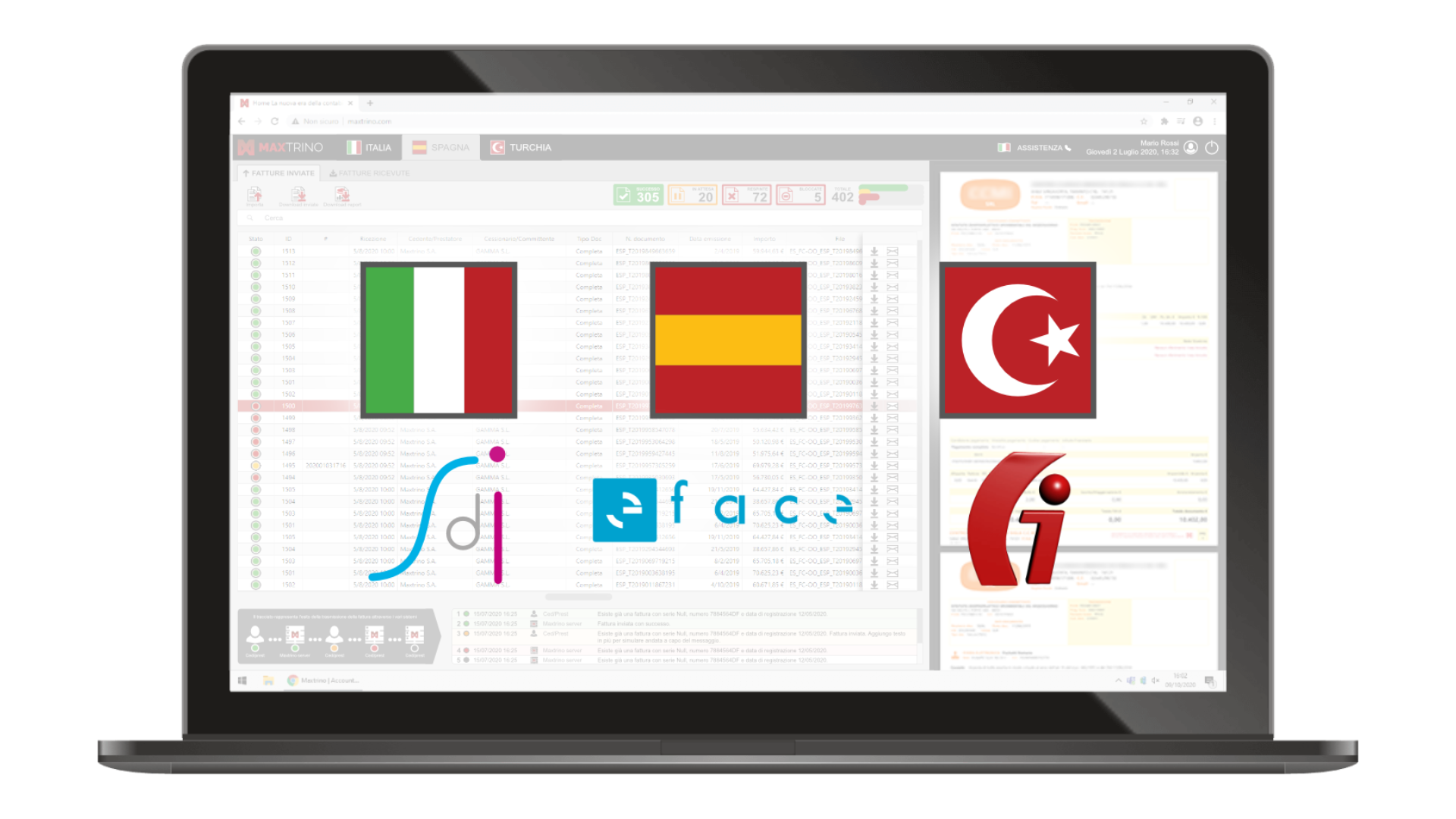 MX 
Hubs
Your customized solution in each country for e-documents management:
E-Invoice
E-IDDT
E-Order
Massive inputs from every source and track
Generation of customized input and output schemes
MX
Tilt
Your customized solution for the conversion (data transformation) of your documents in any format: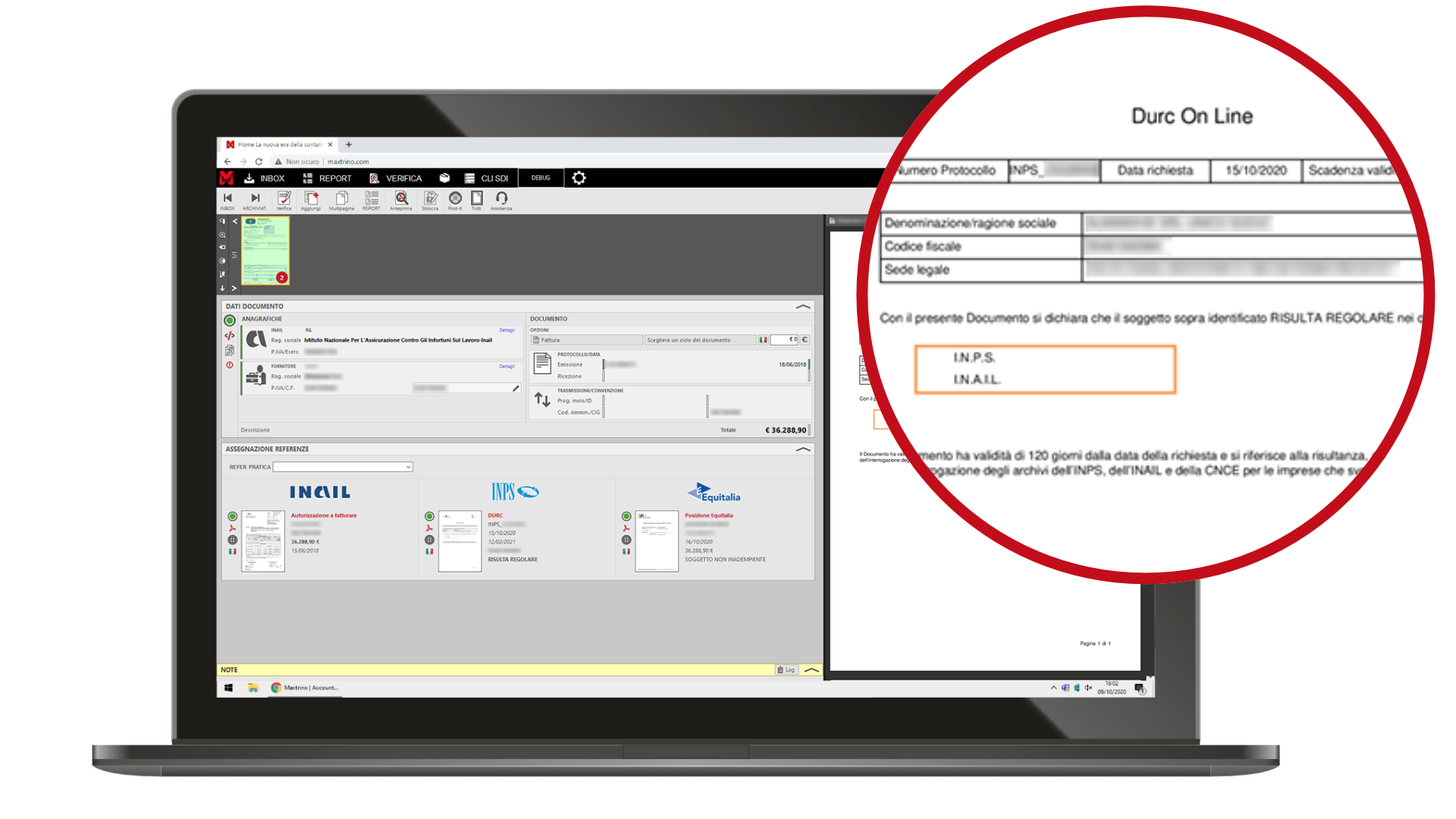 MX
Regs
Your smart solution for automating regulatory and internal compliance audits:
DURC
Equitalia position
Authorization to Invoice
Internal audit resolutions
MX
Sell
The cloud-based solution for the automation of your active cycle:
Input from of any type and format (csv, xls, pdf, IDOC)
Predictive set-up of accounting entries
Generation of input path on ERP
Electronic invoice Generation of E-Invoices and transmission to Tax hub (SdI, FaceB2B, …)
Connection to ERP via web service
MX
Buy
The cloud-based solution for the automation of your passive cycle:
Input from any source (mail, SdI, direct import, …) and in any format (xml, pdf, xls, doc, …)
Predictive set-up of accounting entries based on AI and machine learning
Generation of upload schemes for ERPs
Connection to ERP via web service
MX
Show
Your advanced and customized reports in the cloud:
Payment status
Authorization flows
VAT returns
Statistics on administrative procedures
MX
Audit
Your Cloud solution for the audit of financial statements:
Upload of journal
Reclassification to standard taxonomy
Cross-check of single accounts
Outliers identification
MX
ESEF
The efficient and automated Cloud solution for the generation and verification of financial statements in European Single Electronic Format:
Upload base reports
Data verification and conversion
Automatic insertion of tags and base notes
Advanced revision management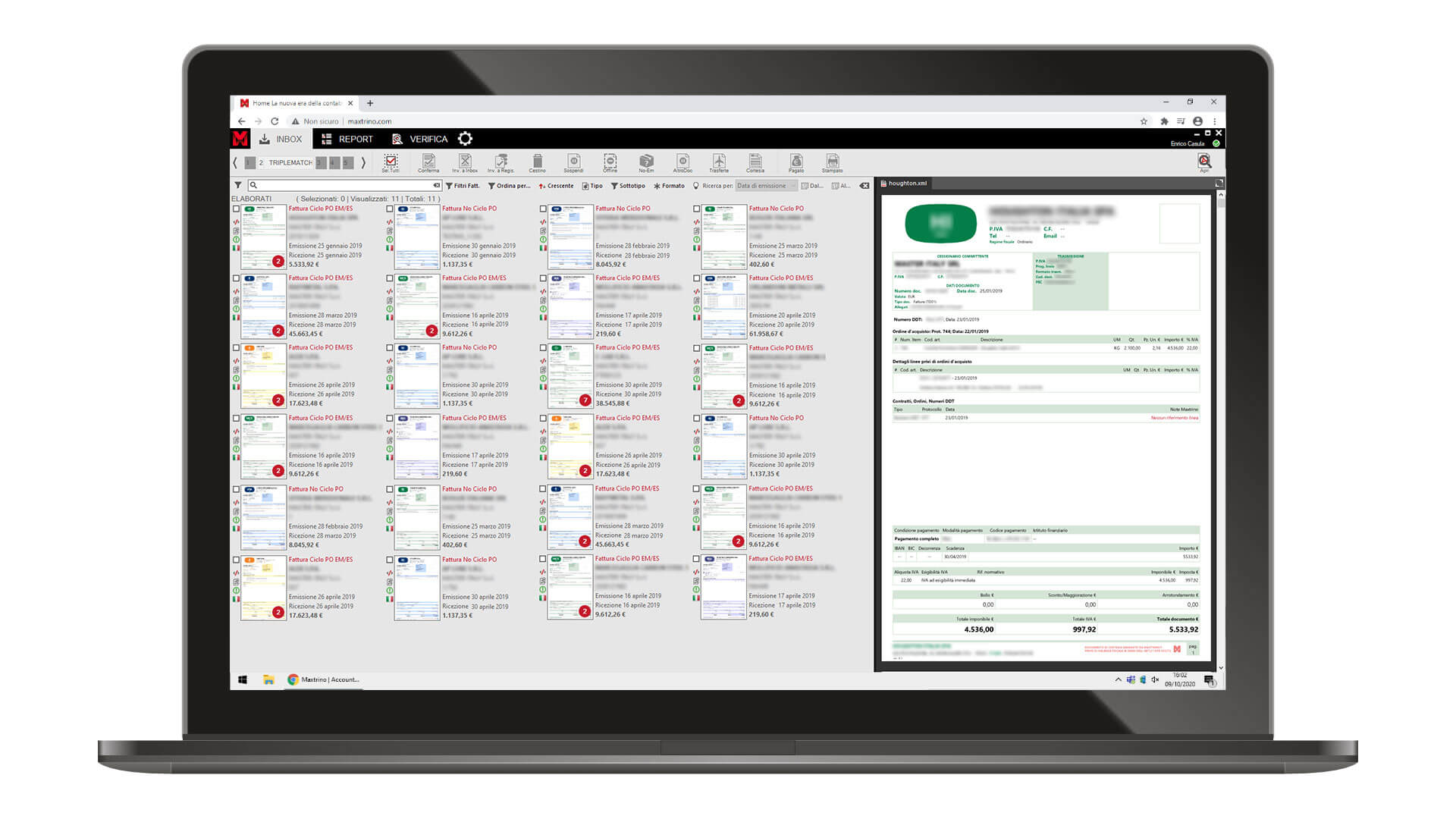 MXL 
O2C
The smart solution for the automation of your active cycle:
Integration with different ERPs (multi-site, different systems)
Reading of billing data in any format (csv, IDOC, pdf, xls, …), language (Italian, English, German, Spanish, Portuguese, Turkish, Arabic, …)
Acquisition from every source and channel
Conversion of Italian, Spanish, Turkish e- invoices, …
Transmission to tax hubs in each country
Management of status messages
MXL 
P2P
The most advanced and innovative solution on the market for the automation of the passive cycle:
Complete automation of workflows based on Artificial Intelligence and Machine Learning
Management of electronic and pdf invoices (professional and foreign invoices)
Automatic loading of invoices from tax hubs or from documents management systems
Customized / Context dependent preview generation
Reading and interpretation of header and invoice body data
Order cycle management (goods receipt and services) with identification, selection and check-out of orders and delivery notes;
Management of service invoices with identification and processing of analytical fields: offices, staff, telephone, POD (point of delivery), Telepass and Viacard for motorways, PNR (passenger name record), … and much more
Check IBAN, payment conditions and deadlines
Automatic preparation of accounting entries (counterpart, VAT codes, …)
Direct writing on ERP
Archiving and transfer of dossiers to documents (invoice, delivery note, attachments, …)
Personalized workflows with management of authorizations, signatures and internal and regulatory checks
Transaction certification with blockchain
Available in light and full integration versions
Light Integration:
The effective solution to benefit from all the features of MX-P2P in a very short time without impacting company IT systems
Upload of basic tables (chart of accounts, VAT codes, payment methods, …) on a quarterly / annual basis
Upload of master data, orders and delivery notes on a daily basis
Daily data transfer to ERP via manual upload
Full Integration:
The complete integration solution for the most demanding customers
Real-time synchronization with ERP and warehouse software through web Services or DB-links for data reading
Real-time synchronization with company documents for invoice archiving
Synchronization with ERP for the check-out of orders and DDT through web Services and registration monitor
MXL 
R2S
Professional E-Archiving for companies and groups in partnership with BPER Bank:
Analysis of the business organization
Preparation / revision of the archiving handbook
Acquisition of invoices, documents, accounting records, VAT registers
Gap analysis and identification of critical areas (protocol gaps, missing data records, …)
Set-up of archiving packages
Upload of archiving packages on certified repository
Activation of the user license on Maxtrino portal for the management of archived documents
E-Archiving service in collaboration with Numera (BPER Group).

MXL 
R2R
The integrated reporting solution for management and stakeholders:
Data acquisition from the ERP in real time
Preparation of standard and customized reports
Data analysis based on artificial intelligence
Management of status messages and warnings
Automatic transmission to distribution lists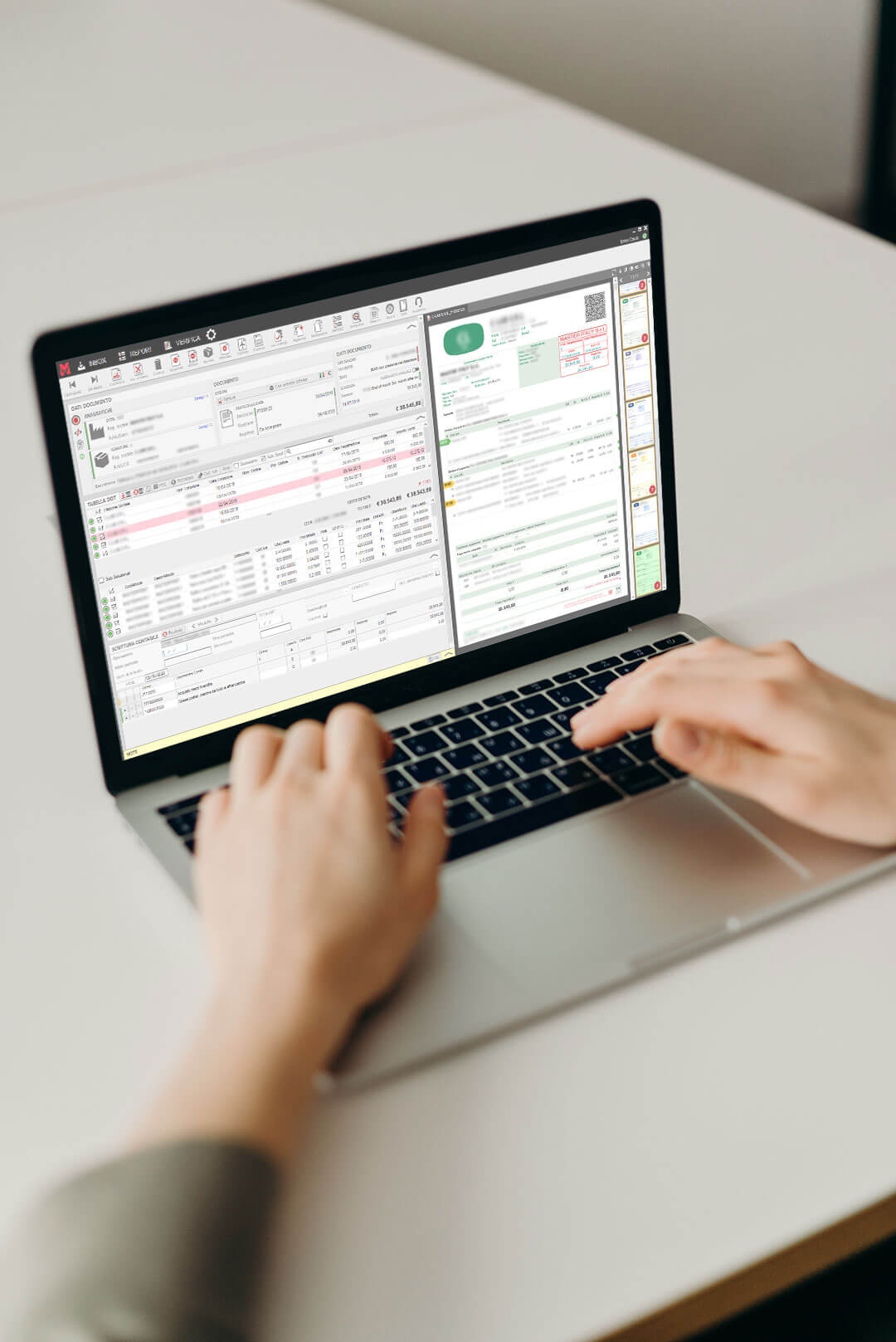 Source & Delivery
Digital transformation
Robotic Process Automation
Regtech
M Tools
MX Products
MXL Solutions
AI
ML
Cloud computing
Blockchain
Big data & Analytics
ICR HCR & XCR
Fuzzy logic
Via Roma n.149 - 09124 Cagliari - IT
Via Tor Pagnotta n. 86 – 00143 Roma - IT
PHONE
Joint-stock company
Share capital i.v. € 200.000,00
C.F./P.I. 03349120927

All right reserved ©2020 MAXTRINO SpA